Y5L were excited to receive letters from their pen-pals in France today. They sent us letters and Happy New Year cards (Bonne Année 2022!).
In France, they have a big feast on Epiphany, around 6th January, and a figurine is hidden in the cake (galette de rois). The youngest child decides who gets each slice of cake and the person who receives the figurine in their slice gets to be king/queen for the day! The children in France sent us our very own crowns (couronnes).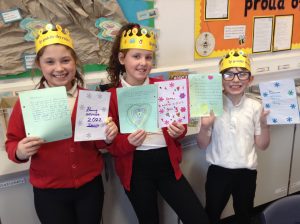 We have written our letters back and look forward to the replies!